CRITICAL PRAISE FOR SESQUI! GREED, GRAFT AND THE FORGOTTEN WORLD'S FAIR OF 1926

From the Fall 2017 issue of Pennsylvania Heritage Magazine. Review by Dr. David R. Contosta, author of America's Needless Wars and Rebel Giants:

"Author Thomas Keels describes in compelling detail the reasons for the fair's shortcomings, but he also offers readers a glimpse into late 1920s Philadelphia. The display of the American
Eugenics Society at the fair proclaimed the racial superiority of northern Europeans, a message that the Ku Klux Klan sought to reinforce with a rally on the grounds. Fortunately, Mayor W. Freeland Kendrick was shamed into withdrawing permits for the hate organization to parade or assemble as a body."

"Philadelphia's large African American community hoped to showcase their accomplishments but was disappointed when none of their leaders were allowed to participate in any official events. In contrast, a group of patrician women received special praise for their sponsorship of the exhibit High Street: Old Philadelphia 1776, which featured replicas of colonial houses and other structures."

"Sesqui is a masterful look back at Philadelphia's second world's fair. Keels' writing is both crisp and elegant, and the book is a must-read for anyone who wishes to understand Philadelphia at a critical juncture in its history."

From the September 2017 edition of CHOICE, a publication of the Association of College and Research Libraries Division of the American Library Association. Review by J.M. O'Leary, Mitchell College.

"Keels presents a persuasive portrait of the political, economic, and cultural hurdles that this fair's organizers experienced, especially the multi-tiered tensions of city, state, and federal levels of governmental interactions. Although the 'Sesqui' was a financial flop, it did succeed in attracting prominent figures of the era, including President Calvin Coolidge and Queen Marie of Romania, albeit for only a very brief interlude. The author carefully crafts a narrative that includes a discussion of important sociocultural elements linked to the nation's and Philadelphia's history, including the consequences of 'pay to play' politics, racial discord, eugenics, the failed attempt by the Ku Klux Klan to occupy the fairgrounds for its annual meeting, the role of women, and the allure of athletic competition as entertainment. Written in clear prose and carefully researched, the text is enhanced by myriad photographs throughout. RECOMMENDED."


Sesqui! covered at Philly.com:

A nice piece on Sesqui! in today's Philly.com called "How Philly Botched Its Second World's Fair" (click on the title to go to the article). It's courtesy of Tommy Rowan, Philly.com reporter and a darned good historian in his own right! Tommy is in charge of the new Philly History blog at Philly.com -- definitely worth checking out if you love local lore.

And in Philadelphia Magazine:

Also now online at Philadelphia Magazine: "Eleven Things You Might Not Know about the 1926 Sesqui-Centennial" by Sandy Hingston. Eleven fun (or slightly painful) facts about the Sesqui drawn from my book!

Read it here.


Sesqui! covered in the Philadelphia Gay News

Raymond Simon wrote a nice piece on
Sesqui!
Greed, Graft, and the Forgotten World's Fair of 1926
in the latest issue of the
Philadelphia Gay News
. The LGBTQ presence was not exactly overwhelming at the Sesqui (or anywhere else) in 1926. Violet Oakley did display some murals at the Pennsylvania State Building, and after that I've got nothing. But the book's themes of exclusion and intolerance in the name of patriotism -- the concerted efforts by the patriarchal establishment to keep out African Americans, Jews, and other minorities from the celebration of life, liberty, and the pursuit of happiness while welcoming the Ku Klux Klan with open arms -- certainly resonates in today's environment.
To read Ray's excellent piece, click here
.
...and in the Chestnut Hill Local!

Leslie Feldman crafted a lovely piece that appeared in the latest issue of the
Chestnut Hill Local
. (To read it, click here
.) We discuss not only
Sesqui!,
but my early attempts at fiction (including my unpublished vampire novel,
Old Blood
), and how Chestnut Hill and the
Local
played a major role in my writing. I had pretty much given up attempts at writing until the late 1990s when I began to write book reviews for Ruth Russell at the
Local
because, well, because I was broke and I wanted free books. Eventually I began to write articles about local history and architecture, as a member of the Archives Committee and a Board Member of the Chestnut Hill Historical Society. This led to my first book,
Chestnut Hill
(Arcadia Publishing, 2002), co-authored with CHHS Curator Liz Jarvis. This led to another book, and another, and suddenly it's 2017 and I've just published my seventh. Thank you, Ruth Russell, and thank you,
Chestnut Hill Local
!
"Contractor Bosses" on The Encyclopedia of Greater Philadelphia

My second essay for the Encyclopedia of Greater Philadelphia was posted this week: Contractor Bosses (1880s-1930s), a look at how Philadelphia's contractor kings dominated the city from the period of the building of City Hall until the Great Depression. Another opportunity for me to put to use the mass of information on the Vare Brothers, "Sunny Jim" McNichol, Boies Penrose, and all the other colorful characters I learned about while writing
Sesqui!
To read the essay, click here:
philadelphiaencyclopedia.org/archive/contractor-bosses-1880s-to-1930s/
.
My essay on Laurel Hill Cemetery, my home away from home, was posted on the web site in 2013 (to read it, click
here
). The page also features a gallery of historic images of Laurel Hill, many from the cemetery's own archives. Take some time to check out this fascinating and worthwhile web site, which is growing all the time. You can even suggest topics to include!

"For the Love of Rodin" in Philadelphia Style Magazine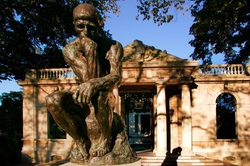 In Fall 2012, I wrote my first article for
Philadelphia
Style
magazine (click
here
to view it in the online issue). The freshly restored museum looks much as it did when its doors first opened on November 29, 1929. Jules Mastbaum, who funded the museum to house his vast collection of works by Rodin, once ran the largest chain of movie theaters in the Northeast. According to Philadelphia Museum of Art curator Jennifer Thompson, Mastbaum may have begun collecting Rodin sculptures to decorate his ornate theater lobbies ("
Madagascar 4
? Sure, just hang a right past
The
Gates of Hell
..."). This newly refurbished jewel is definitely worth a visit.
---
The first time I saw Laurel Hill...
On August 13, 2011, I was asked to be one of the speakers commemorating the 175th anniversary of Philadelphia's historic Laurel Hill Cemetery. In the YouTube video below, I recount my first, chilly encounter with the Victorian necropolis, and how their relationship has warmed over the years.


Tom the Talking Head on PBS39's "Philly Firsts."
Here's a brief glimpse of me, discussing Philadelphia history alongside such luminaries as Mayor Michael Nutter and John Andrew Gallery in a trailer for "Philly Firsts," Grover Silcox's wonderful documentary on the Quaker City, which debuted on PBS39 in June 2011 (don't worry, there's more of me in the full program!).