Tom's Books (Click on the cover to go to the book's page at Amazon).



SESQUI! GREED, GRAFT, AND THE FORGOTTEN WORLD'S FAIR OF 1926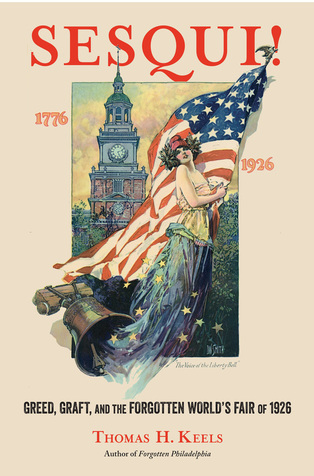 ADVANCE PRAISE FOR SESQUI!
"In his portrayal of the 1926 Sesqui-Centennial, Tom Keels has once again opened a wide, insightful and revealing historical lens on Philadelphia. It is hard to imagine how the flaws and fault lines in American society could be more stunningly exposed than in this fast-paced story of the 150th anniversary of the nation's birth in the city where it all started. By tracing the political, social, cultural, and economic conflicts that inflicted this event once promising event,
Sesqui!
portrays the ongoing tensions between good government reformers and the political machine, reinforces the second-class citizenry bestowed on women and African Americans and vividly shows how the best intentions and investment can go so badly wrong through human error.
Sesqui!
is a great read that help us better understand urban America in the early twentieth century."
—Sam Katz, Executive Producer, History Making Productions
"The close observer of Philadelphia is always searching for the reason that the city fell so far behind its peers in the twentieth century. How did so much industrial wealth amount to so little civil grandeur, even during the roaring twenties? Why did Philadelphia lose its historically vital influence over the nation and the world, while its peer cities gained? How is it possible that only two of a planned dozen or more subway lines got built? Tom Keels' convincing answer to all these questions is the tragicomic disaster of the Sesqui-Centennial, a planned world's fair that spun itself and the city into muddy ground. In
Sesqui!,
Keels reveals the devastating interplay of the South Philadelphia-based Republican political machine known as The Organization, Republican reformers, elitists, and an incompetent mayor seemingly owned by everyone from which the city could never recover."
—Nathaniel Popkin, Founding Editor,
Hidden City Daily
It was meant to be the greatest international exposition the world had ever seen. It became known as the "Flop Heard 'Round the World."
What went wrong with Philadelphia's second world's fair, staged fifty years after its tremendous success with the 1876 Centennial?
In 1916, department store magnate John Wanamaker launched plans for a Sesqui-Centennial International Exposition in 1926, a world's fair to celebrate the 150th anniversary of the Declaration of Independence. Wanamaker believed that the "Sesqui" would restore its beloved but corrupt hometown to its rightful position as the birthplace of American liberty. Centered around the new Fairmount Parkway (today's Benjamin Franklin Parkway), the fair would turn sooty, industrial Philadelphia into a Beaux-Arts City Beautiful.
On May 31, 1926, the Sesqui-Centennial opened in the remote swamps of the southern tip of South Philadelphia. Mayor W. Freeland Kendrick welcomed the world, including 150,000 of his fellow Shriners, to an unfinished fair of shabbily built, mostly empty structures set in a sea of mud. The disgusted Shriners traveled home and told their friends and neighbors not to bother with "Kendrick's Karnival." When the Sesqui closed six months later, it had attracted fewer than five million paying customers, less than half the number who saw the Centennial fifty years earlier. It had lost millions of dollars and helped to push Philadelphia into a financial depression long before the stock market crashed. And it made Philadelphia a national scandal, a city so corrupt that one political boss could kidnap an entire world's fair.
Sesqui! Greed, Graft, and the Forgotten World's Fair of 1926
is the story of a great American city going off the tracks, thanks to a political machine that crushed dissent, controlled nearly every civil servant and elected official, and even paid the rent on the Democratic Party headquarters. Seeing the Sesqui as a gigantic boondoggle, the machine seized control of its governing board and moved the fair from Center City to the swamps of South Philadelphia -- which just happened to be the congressional district of the machine's all-powerful head, William S. Vare. Long before a single building was erected, the fair's budget had been depleted on landfill to stabilize the marshy soil of the new site. After that, it was all downhill.
Sesqui!
describes how the Philadelphia fair also became a battleground for the culture wars sweeping America in the 1920s, including Prohibition, eugenics, and civil rights. At one point, over 100,000 members of the resurgent Ku Klux Klan were scheduled to visit Philadelphia for their annual Klonvokation, marching from City Hall to the fairgrounds to burn a giant cross. Meanwhile, African Americans had to petition the White House to obtain a measly $12,500 to finance their activities.
Filled with unforgettable characters,
Sesqui!
tells the compelling story of a world's fair that crashed and burned, set against the backdrop of a changing, conflicted city and country during the Roaring Twenties.
For more information, visit Tom's Sesqui page on Facebook, or go to the Temple University Press
Sesqui!
web site at 
www.temple.edu/tempress/titles/2115_reg.html
.
Philadelphia's Golden Age of Retail (with Lawrence M. Arrigale)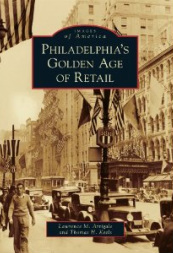 Philadelphia is not only the birthplace of America but also the birthplace of America's consumer culture. From the Civil War until Vietnam, Philadelphia's thriving middle class made the city a mercantile mecca, home to some of America's largest and most innovative department and specialty stores. Market Street between Seventh Street and City Hall was lined with five major department stores: John Wanamaker, Strawbridge & Clothier, Gimbels, Lit Brothers, and N. Snellenburg & Co. Here, shoppers could buy everything they needed to furnish their house from attic to basement, as well as the house itself. On nearby Chestnut and Walnut Streets, the carriage trade selected silver and jewelry at J.E. Caldwell & Co. and Bailey Banks & Biddle, haute couture at Nan Duskin and the Blum Store, and men's clothing at Jacob Reed's Sons. Philadelphia's Golden Age of Retail illustrates how these emporia taught generations of Philadelphians the proper way to live.

---
Wicked Philadelphia: Sin in the City of Brotherly Love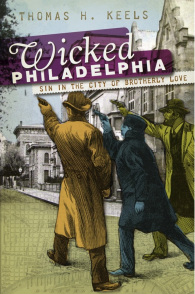 Prim and proper Philadelphia has been rocked by the clash between excessive vice and social virtue since its citizens burned down the city's biggest brothel in 1800 in a rare show of righteous indignation. With tales of grave robbers in South Philadelphia and harlots in Franklin Square, Wicked Philadelphia reveals the shocking underbelly of the City of Brotherly Love. Did you hear the one about the washerwoman who masqueraded as a Spanish countess for two decades, bilking millions from victims and even fooling the government of Spain? Then there's the 1843 scandal about the young blueblood who abducted and raped a 15-year-old girl, only to be shot in cold blood by the girl's crazed brother, which inspired George Lippard's gothic classic, The Quaker City. From the Mischianza of 1778 to John Barrymore's midnight arrival in town four decades after his death, Wicked Philadelphia uncovers three centuries of sordid scandals and corrupt characters which illustrate why Lippard described the Quaker City as "without all purity, within all rottenness and dead men's bones."

---
Forgotten Philadelphia: Lost Architecture of the Quaker City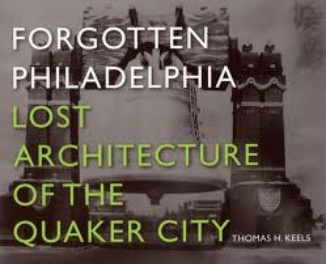 "I spent much of the weekend devouring Thomas H. Keels' excellent Forgotten Philadelphia: Lost Architecture of the Quaker City….I
intended to review Forgotten Philadelphia for our Book Quarterly next week, but the book has been haunting me. In fact, it's hard to walk or drive around town without seeing the ghosts that Keels' book masterfully summons from the past….The best part of Forgotten Philadelphia isn't the photos. It's the running drama, spanning the city's history, that Keels captures in the accompanying essays. The central question is: What's the best we can do with the space in this city? And throughout the book's 320 pages, smart, dedicated people grapple with that question."
Duane Swierczynski, Philadelphia City Paper


"For architecture, history, and Philly buffs, it's an indispensable volume....Looking at these beautiful architectural drawings is like walking directly into the province of dreams, and their pure optimism -- the sense of their rightness -- provides this book with a melancholy-tinged but fitting finale."
The Jewish Exponent

"A luscious collection of drawings and black-and-white photos of buildings that no longer exist with lively descriptions of what they were like when they did…anyone with a stake in the city's future should have a copy of this book by their bedside…it's a must."
PhiladelphiaWeekly


---
Philadelphia Graveyards and Cemeteries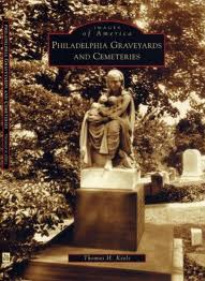 "Arcadia Publishing has been producing small and well-illustrated books on local history…. Philadelphia Graveyards and Cemeteries is among the best of this genre and does not disappoint the reader who seeks unusual and important images. Keels provides an astonishing amount of historical and visual commentary on the entire range of Philadelphia's cemeteries over time and space. In nine crisply annotated chapters Keels describes Philadelphia's legacy: colonial and federal graveyards, Laurel Hill Cemetery, the Woodlands, other Victorian cemeteries, neighborhood graveyards, African American burial sites, Catholic and Jewish cemeteries, the trappings of death, and vanished cemeteries. Keels's work is a primer on how rich an aspect of heritage can be if we take the time to examine it more closely….This little book attests to the importance of cemeteries in chronicling the evolution of a city and provides readers with insights into how cemeteries' ethnic and cultural diversity can enrich their lives."
CRM: The Journal of Heritage Stewardship


---
Philadelphia's Rittenhouse Square (with Robert Morris Skaler)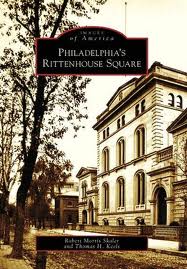 During the Gilded Age, Rittenhouse Square was home to Philadelphia's high society, with more millionaires per square foot than any other American neighborhood except New York's Fifth Avenue. Established by William Penn in 1682 as the South-West Square and renamed after astronomer David Rittenhouse in 1825, Rittenhouse Square and its environs changed from an isolated district of brickyards and workers' shanties into the city's most elegant and elite neighborhood between 1845 and 1865. The brownstone and marble mansions on the square itself were inhabited by the city's wealthiest and most prestigious families, with names like Biddle, Cassatt, Drexel, Stotesbury, and Van Rensselaer. Philadelphia's Rittenhouse Square traces the history of this fabled square from its early days as a pigsty and pasture to its current status as the city's priciest real estate parcel and most prized residential neighborhood.



---
Chestnut Hill (with Elizabeth Farmer Jarvis)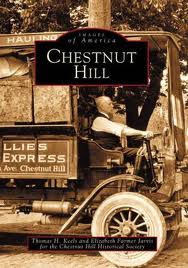 Chestnut Hill is the first fully pictorial chronicle of this historic and architecturally significant neighborhood in Northwest Philadelphia. Chestnut Hill features over 225 images of this beautiful community from the archives of the Chestnut Hill Historical Society, from other Philadelphia museums and societies, and from private collections, some of which have never been published. Chestnut Hill traces the neighborhood's visual history from its 18th century roots to the present day, with chapters on the railroad suburb, the working town, great houses and estates, the Houstons and Woodwards, local institutions, and leisure. Well-known Chestnut Hill landmarks like Druim Moir, Krisheim, Kilian's Hardware, and the Philadelphia Cricket Club share the pages with such vanished sites as Stonehurst, Whittem's Pharmacy, Christian Hall Library, and the Orange Ell.

---
That's all -- for now.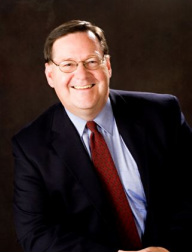 Click on Tom's picture to visit his author page at Amazon.com.
---