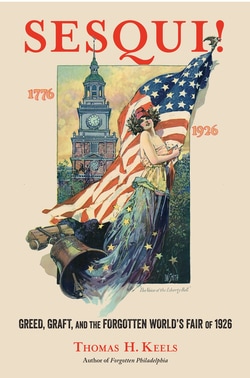 Wednesday, June 14 at 6 p.m. "Sesqui!" at the American Swedish Historical Museum
1900 Pattison Avenue, Philadelphia PA 19145

Author Tom Keels will be at the American Swedish Historical Museum on June 14 to discuss his new book,
Sesqui! Greed, Graft, and The Forgotten World's Fair of 1926.
Keels did research for
Sesqui!
in the ASHM archives, and his talk will cover some of the Swedish roots of the Sesqui. The ASHM is one of the few "survivors" of the fair: its cornerstone was laid on June 2, 1926 by Crown Prince Gustavus Adolfus of Sweden, who also dedicated a replica of the Swedish Block House during his American visit.
Monday, May 8 at 7:30 p.m.: "Sesqui!" Spring Lecture for Save Our Sites at the Philadelphia Ethical Society 1906 South Rittenhouse Square, Philadelphia PA 19103
Did you know that a young Louis I. Kahn designed a Palace of Fashion for the Sesqui-Centennial, one of a host of structures that never got built? Tom Keels will discuss the Sesqui, with an emphasis on its design and architecture, at the Spring Lecture of Save Our Sites in the Philadelphia Ethical Society Auditorium. The lecture is open to the public and free, with a voluntary contribution to support Save Our Sites' mission of preserving and restoring historic, at-risk structures.
For information on talks, fees, references, etc., please contact Tom via the Contact page on this site or email him at
mailto:thkeels@gmail.com
.